Winter tours Slovenia - Velika
Planina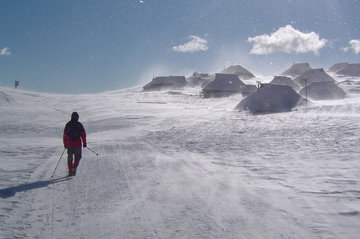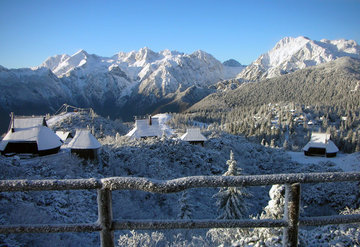 Just a few steps from the capital city Ljubljana and in the north part of Slovenia lay the Kamnik – Savinja Alps where you can enjoy outstanding winter tours Slovenia. Along with the Julian Alps and Karavanke they represent one of the three mountain ranges in Slovenia. Right below the Alps we can find the spring of the clear mountain river Kamniška Bistrica and above her we will find, on the altitude of 1500 m above the sea level, the most famous village of Alpine herdsmen in Slovenia, Velika Planina. In the winter this village changes into a pleasant ski resort and it is a great area for winter tours.
As a part of trekking Velika Planina, the path will take us along the colourful canyon of Kamniška Bistrica river, that in some parts carved a 35 m deep and 2 m wide river bed in the limestone in Predaselj. In Kamniška Bistrica we will take a look at the lake and hunting residence of the former Yugoslav president Tito, which was designed by the most important Slovenian architect Jože Plečnik. Gondola will take us to Velika Planina, where we can try fresh, still warm, milk or some other dairy product.
Gear:
Gear:
appropriate clothing
hiking shoes (high ankles, high profile boots)
wind and rain resistant clothing
snacks
water bottle
sunglasses
sunscreen
headgear for protection against the sun
a hat
pullover
a backpack
walking sticks
toilet paper
sneakers or sandals to wear in the mountain hut
flashlight or a headlamp
identification
extra underwear, socks
backpack cover
personal hygiene accessories (toothbrush, toothpaste, comb, moist tissues, a small towel …)
Photos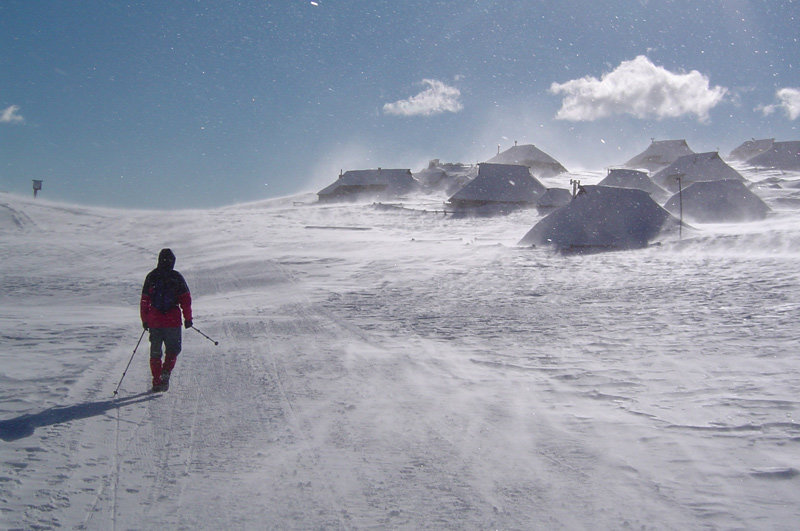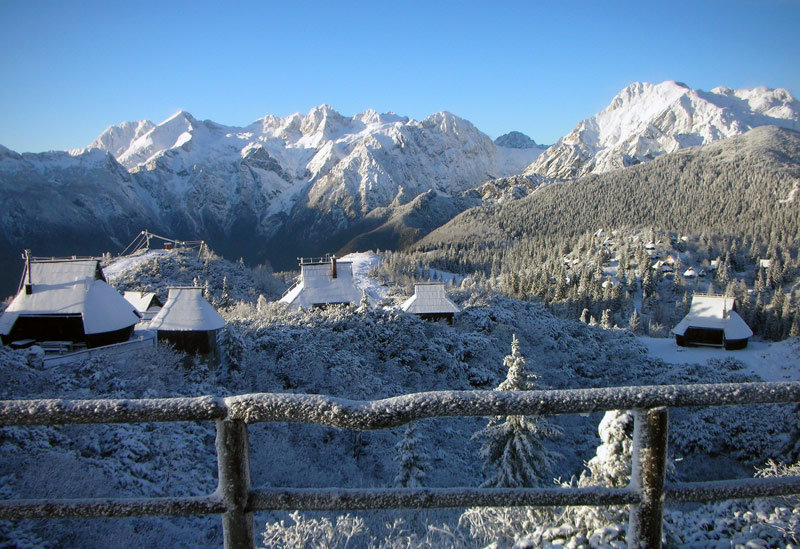 Stahovica – gondola to Velika planina – Domžale mountain hut
Starting in Stahovica we make our way towards Kamniška Bistrica. After observing the ravine and the sites in Kamniška Bistrica we return to the bottom station of the gondola. From there we take a ride to Velika Planina and the on foot to Zeleni Rob, past alpine herdsman mountain huts and cows to Mala Planina, where we will spend the night.
Altitude:
Stahovica: 434 m
Upper gondola station on Velika planina: 1407 m (Hotel Šimnovec)
Zeleni rob: 1612 m
Domžale mountain hut – Marjanine njive – Kranjski Rak
In the morning we can observe the interesting life of the Alpine herdsmen, taste homemade dairy products and enjoy the green plains. The path takes us over Gojška Mountain to Marjanine njive and Kranjski Rak, where our van is waiting for us.
Altitude:
Domžale mountain hut on Velika planina: 1534 m
Kranjski Rak: 1029 m
Details
throughout the year
season
mountain huts
accommodation
The price is valid with a minimum of 4 people. For 3 guests the price is 365,00 € / person and for 2 guests 495,00 € / person.
Price includes:
transport from Ljubljana and back
a lift to the top of Velika planina
accommodation: 1 night in a mountain mountain hut (common sleeping room)
1 x breakfast
1 x dinner
experienced mountain guide
General travelling conditions and travelling instructions are part of the programme.