Adventure travel Slovenia - Alpine
adventure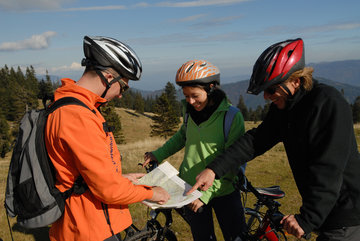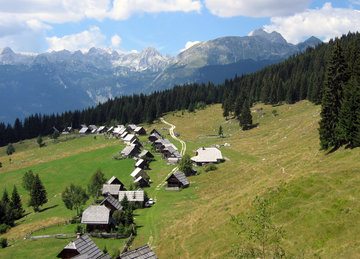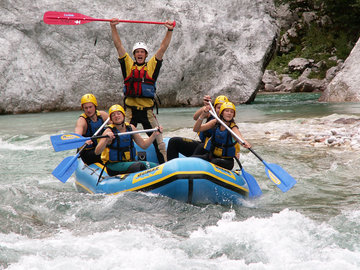 Adventure travel Slovenia is for all those who are looking for hidden sweetness of life on the sunny side of Alps. We will cycle around Triglav National Park, take a walk under Julian peaks and raft on river Soča - one of the most beautiful european rivers. Our Alpine adventure will continue with sight-seeing of Soča valley and then we will peek in Goriška Brda - Slovenian center of the most delicious wines. We will conclude our visit in Slovenian capital - Ljubljana.
Gear:
Gear:
sporty clothes
cycling shorts and windstoper
mountain shoes (high ankle, profiled soles)
clothes for during the day, for rain
snacks for during the day, water-bottle
sun-glasses, sun-cream
headgear for the sun, a cap
a pullover
a backpack (not a bag)
cycling (a small cycling backpack)
walking rods
toilette paper
sneakers or slippers for the cottage
a flashlight or a pocket torch
personal document
spare underwear, socks
something to cover the backpack
toiletries (toothbrush)
Photos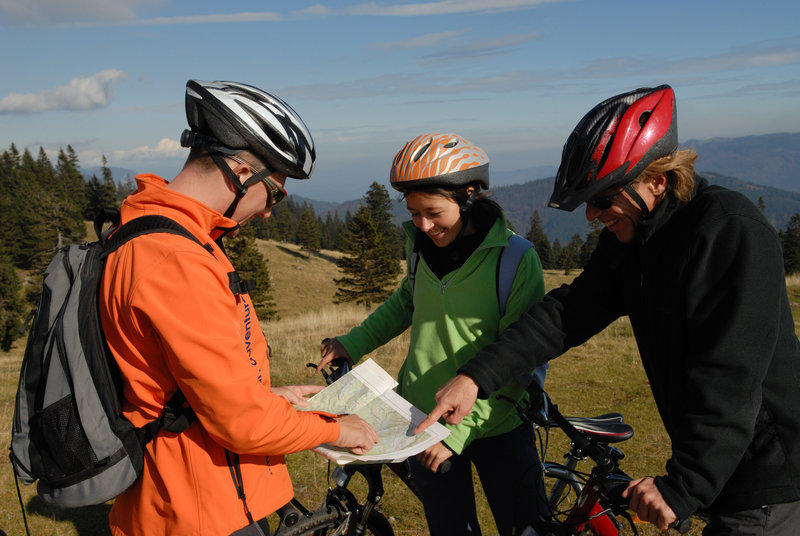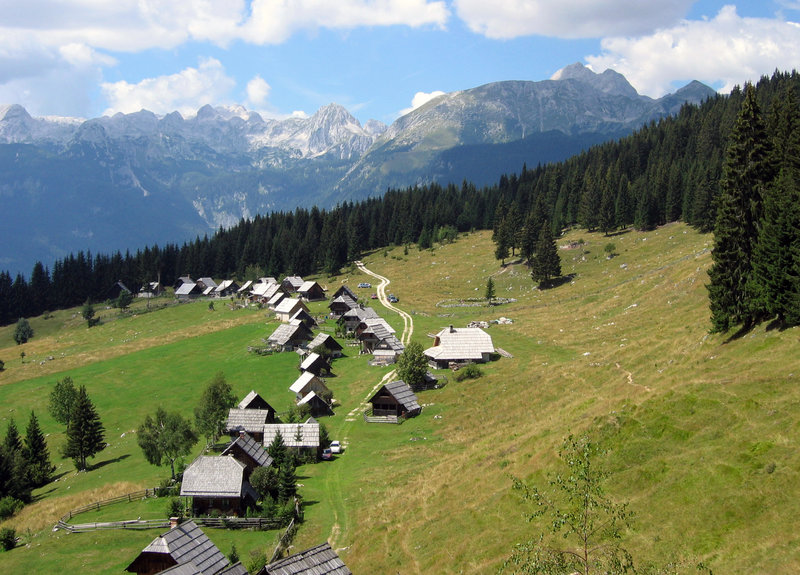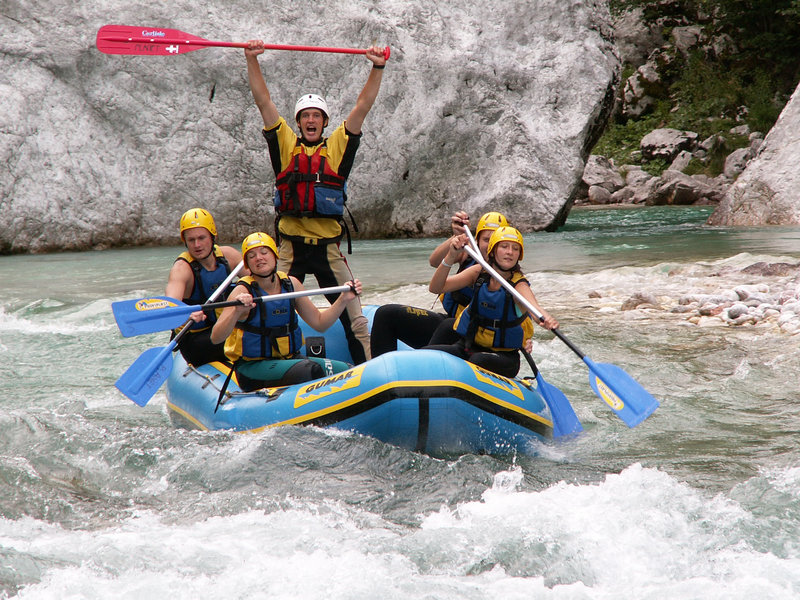 Triglav National Park - Bohinj - Dolina Voje (trekking ) - Bled
Arrival to Slovenia and transfer into the heart of Triglav National Park. Accommodation in Bohinj and welcome meeting. Afternoon will be reserved for hiking from village Stara Fužina to cottage on Voje. We will visit Museum of Alpine dairying where you will learn about lifestyle of Alpine herdsmen who lived on this area decades ago. Diner in a typical alpine village where we will taste authentic Slovenian food. Overnight in Bohinj.
Activity: trekking to the Voje valley (4-5 hours)
Pokljuka - cycling-downhill - Bled
From Pokljuka we head on to Bohinj lake. Pokljuka is a forestry plateau at the altitude of around 1300 meters, known for its winter sports facilities, among which is also the yearly Biathlon World Cup. Pokljuka is also a common getaway for mountaineers and an ideal place for trekking, skiing and much more. Descending Pokljuka by bicycle, we visit Alpine dairy-farm Zajamniki and Uskovnica where we are welcomed to try some authentic Slovenian food as "štruklji" and sour milk. After returning to Bohinj, a short relaxation follows. We continue our tour with visit of Bohinjska Bistrica. We spend the rest of the day in Bled, the area within the Julian Alps, a popular tourist destination. Overnight.
Activity: descend from Pokljuka by bicycle (4-5 hours)
Kranjska gora - Vršič and Soča spring (hiking) - Trenta valley - Bovec
After early breakfast we will head off towards Kranjska Gora, the most famous ski center in Slovenia. Our road will take us through Vršič Pass, a high mountain pass across the Julian Alps in northwestern Slovenia. We will take some time for a short pause and light walk on the peak. We will descend to Trenta, one of the most beautiful Julian valleys, where we will visit spring of the Soča river. A little bit later we will also visit river beds of Soča river. We take sideways on our way to Bovec, which is center of adrenalin sports, and visit Kluže forts, that are considered as a defence against intruders since medieval period. If the weather is on our side we will catch sun rays and take a rest on a famous ''Soča Cabana'', which lays near Bovec. After the dinner and the night out overnight in Bovec follows.
Activity: hiking onto the peek of Vršič and izvir of Soča river (2 hours)
Bovec (Soča rafting) - Goriška Brda
In the morning we will head off to Soča river where the descend with a mini raft awaits us. The most adventurous will be able to try their luck with swimming in the blood freezing tolmun of this alpine beauty. We will continue our way via Nova Gorica. During the tour we will enjoy in a pure beauty of the valley, which is full of natural and historical places, and we could gaze at calming and blue-greenish color of the Soča river, enjoying in simplicity of life that the magic environment gives. We will continue our tour towards alpine pearl, river Nadiža while passing Kobarid. Napoleon's bridge and refreshment in an extremely warm river will lead us to our next station. We reach Goriška Brda while passing Most na Soči and Solkan. We spend the rest of the day in a lovely village Medana known for its annual festival Days of Poetry and Wine which takes place in late August. We conclude our evening with delicious food and wine. Overnight.
Activity: Soča rafting (3 - 4 hours)
We will leave Goriška Brda and continue our way through Idrija to Ljubljana in the morning. After arrival to Ljubljana we will accommodate ourselves and have lunch. The rest of the day will be full filled with visit of the capital and sight-seeing of the town. It is worth to mention Ljubljana castle which was built as a defence against invaders in medieval period. We will also observe Ljubljana and its valley from castle tower. After descending the castle we will spend relaxing time visiting the narrow and picturesque streets of Ljubljana town that gives a special charm to our journey. It is impossible to avoid Ljubljana's market which was designed by the most notable Slovenian architect Jože Plečnik and its one of the most important Slovenian features. After Plečnik's market we will go to the main square where the statue of the greatest Slovenian poet France Prešeren stands. Our afternoon will be remarkable with visit of riverside Ljubljana which appeals to tourists, students, street musicians and many others with its beauty, magic and dynamic and where we will taste the real joie-de-vivre. We will conclude our day with boat trip on Ljubljanica river and goodbye party in one of the numerous pubs Ljubljana has. Spending the night in Ljubljana or its surrounding.
In the morning you will have time for souvenir-shopping in downtown Ljubljana, and we will make sure that you will arrive on Brnik carefree and on time and fly back to everyday reality.
Details
easy / moderate
difficulty
Price includes:
all transports on the mentioned routes (one piece of luggage per person)
a transport from Ljubljana airport to Ljubljana and back
accommodation in tourist farms, private rooms, hostels and hotels **/***
5x overnight with breakfast in 2-beds rooms and 5x diner
degustation of wine
cycling (renting and transporting the bicycle, protective helmet)
trekking
intro dive with basic equipment or riding the hydrofluid
entry fee for the Museum of Alpine dairying and waterfall Savica, Voje valley, Kluže fort and Ljubljana castle
boat trip on Ljubljanica river
Slovenian English speaking guides and organization
tourist taxes
Extra payments on your request:
single bed room 140 €
lunch from 5 - 15 € /person/day
General travelling conditions and travelling instructions are part of the programme.