Slovenian mountains - Julian
highest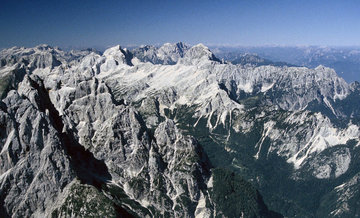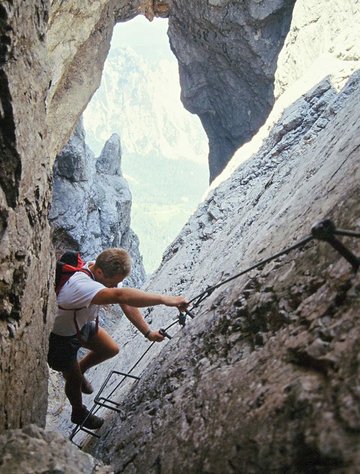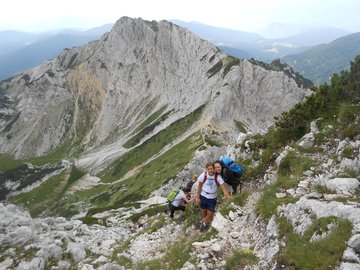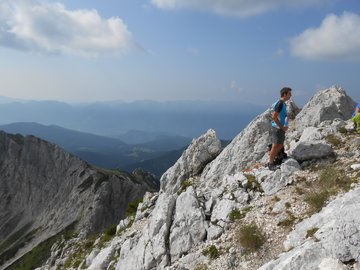 Hiking in Slovenian mountains, admiring the Julian peaks - a 5-day trekking tour is the ultimate adrenalin adventure since it is meant for hikers in good physical and mental condition. In five days we will climb five highest points of the Julian Alps that reach above 2500 m. Jalovec mountain can be found in the emblem of the Mountaineering Association of Slovenia, within Prisojnik lies a story about a face of stone which supposedly belongs to a young girl (Ajdovska deklica) and Triglav is an ancient Slavic god. On our first day we will take a look at the mighty Planica with its world famous ski jump. The world record in ski-flying competition was achieved in Planica in 2005 and stands at 239 m (Bjoern Einar Rumoeren).
Our path will then lead us through the beautiful Tamar valley towards the slender Jalovec. From there we will take the slopes towards Vršič – the highest road pass in Slovenia.
The second and third day in Slovenian mountains will be particularly strenuous since we will climb Prisojnik and Škrlatica. On the fourth day, there will be no more need for ropes and harnesses since Stenar is less difficult than our previous challenges.
On the fifth day we will be looking forward to the high point of our trekking trip with the Slovenian highest mountain Triglav (2864m) as our challenge. The descent will take us towards the plane of Pokljuka – where annual world cup competitions in cross-country skiing and biathlon take place. And in the end, a deserved brake.
Gear:
Gear:
appropriate clothing
hiking shoes (high ankles, high profile boots)
wind and rain resistant clothing
snacks
water bottle
sunglasses
sunscreen
headgear for protection against the sun
a hat
pullover
a backpack
walking sticks
toilet paper
sneakers or sandals to wear in the mountain hut
flashlight or a headlamp
identification
extra underwear, socks
backpack cover
personal hygiene accessories (toothbrush, toothpaste, comb, moist tissues, a small towel …)
a helmet
harness
via ferrata lanyard
ice-axe
Photos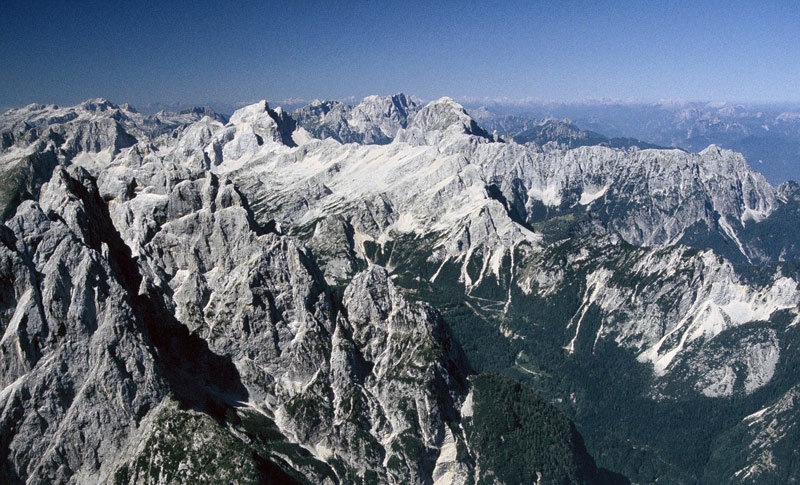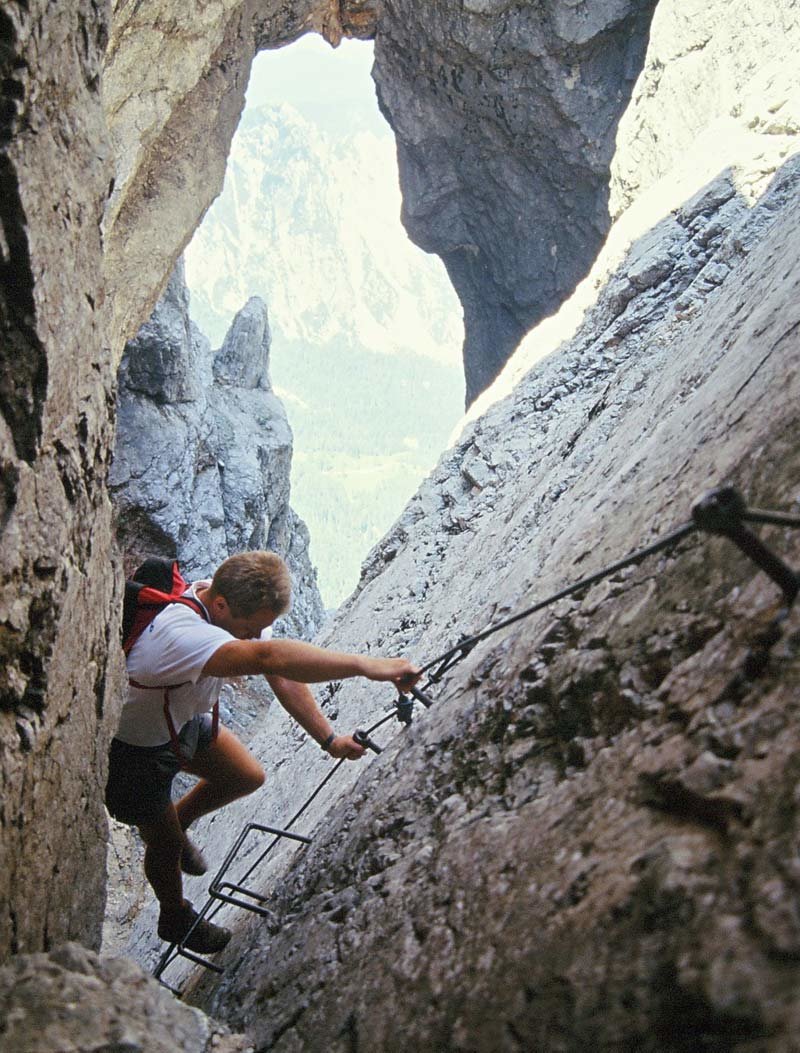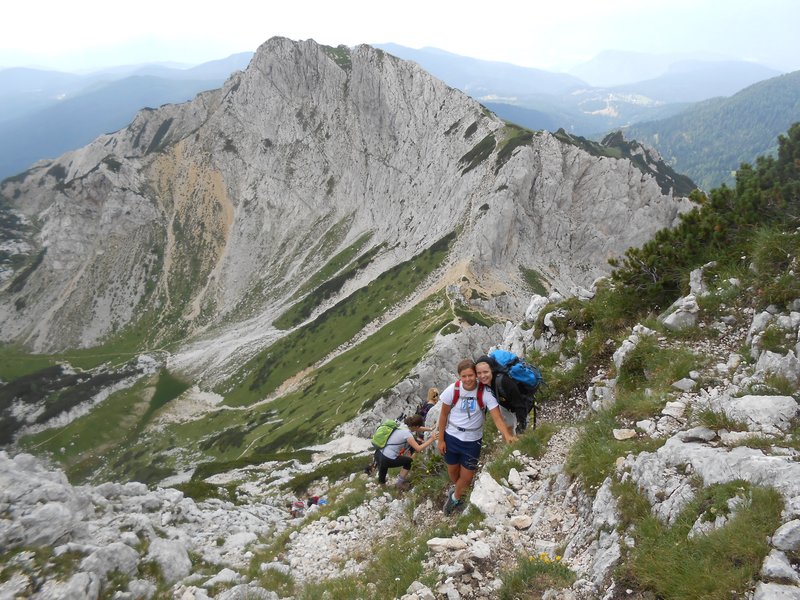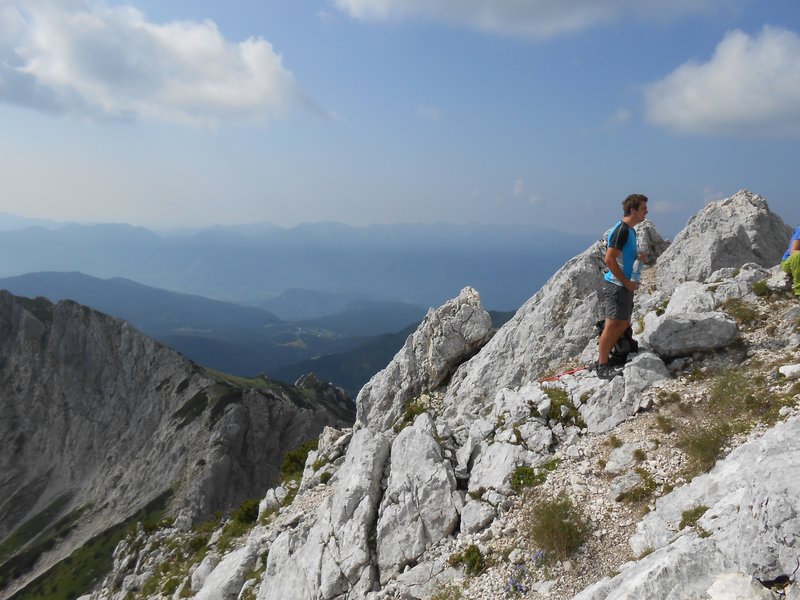 Planica - Tamar - Jalovec - Vršič
We will pass the ski jumps and ascend Jalovnik through Jalovčev ozebnik and then we will cross the south slopes of Šit, Travnik and Mojstrovke until we reach Vršič, where we will also spend the night in one of the mountain huts.
Altitude:
Planica: 940 m (Planica mountain hut)
Tamar: 1108 m (Tamar mountain hut)
Jalovec: 2645 m
Vršič: 1611 m
Vršič - Prisojnik - Kriški podi
We will climb to the top of Prisojnik by taking one of the more demanding climbing routes that leads past the forward window (Jeseniška, Grebenska...) and then we will descend on the other side, continue past the mountain pass between Razor and Planja until we reach Kriški podi, where we will see the highest laying lake in Slovenia
Altitude:
Vršič: 1611 m
Prisojnik: 2547 m
Kriški podi: 2050 m (Pogačnik's home on Kriški podi)
Kriški podi - Škrlatica - Kriški podi
A long route on Škrlatica takes us over the top from Križ, past Dolko's point and finally up to the top where we will be greeted by a great cross. We will descend by taking the same path as we did on our way up.
Altitude:
Kriški podi: 2050 m (Pogačnik's home on Kriški podi)
Škrlatica: 2740 m
Kriški podi - Stenar - Luknja - Dolič
The route on Stenar is less difficult than the routes we took the previous days. From the top we descend towards the mountain pass Luknja from there we will already be ascending towards Triglav. We will conclude our day in Tržaška mountain hut on Dolič.
Altitude:
Kriški podi: 2050 m (Pogačnik's home on Kriški podi)
Stenar: 2501 m
Dolič: 2151 m (Dolič mountain hut)
Dolič - Triglav - Planika - Velo polje - Pokljuka
The ascend on Triglav from the Dolič side is a bit more strenuous than from the other side but the good thing is that its less populated and therefore nicer and safer. We will descend on a secure path to Planika and then past Velo polje on Pokljuka, where we can observe a snow stadium without snow.
Altitude:
Dolič: 2151 m (Dolič mountain hut)
Triglav: 2864 m
Planika: 2401 m
Velo polje: 1817 m (Vodink's home on Velo polje)
Pokljuka: 1347 m (Rudno polje)
Details
very difficult
difficulty
Price includes:
transport from Ljubljana and back
accommodations: 4 nights in a mountain mountain hut (common sleeping room)
4 x breakfast
4 x dinner
experienced mountain guide
General travelling conditions and travelling instructions are part of the programme.